Bikini uses the least amount of fabric and the least cover up to maximize the beauty of the goddess body and posture. Bikini maximizes the outward beauty of women's health and confidence. What are women's bikini brands? Here are ten top bikini brands led by La Perla for everyone.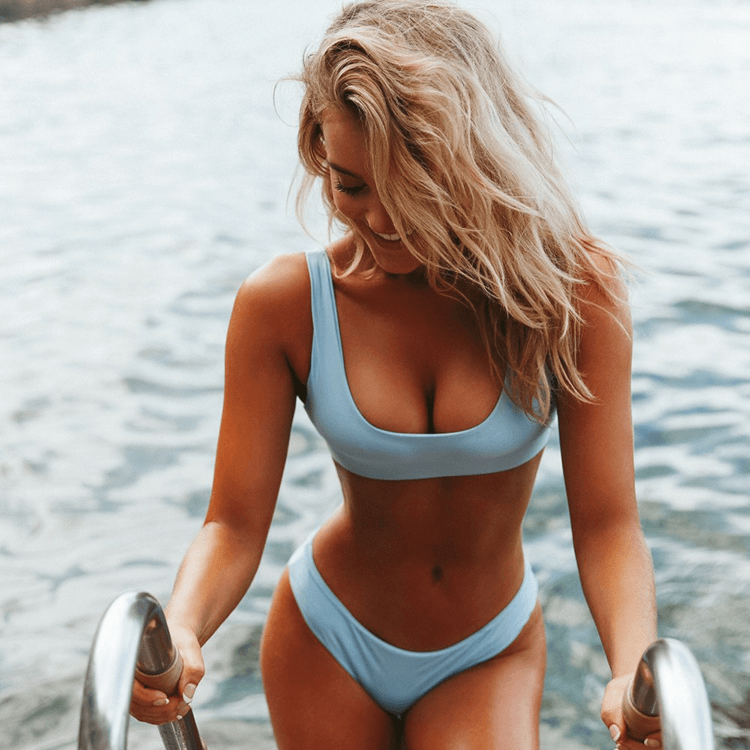 No.1 La Perla
La Perla is one of Italy's top manufacturers of underwear, women's clothing and swimwear. Because of its noble style and long history, La Perla is known in the industry as "Rolls-Royce" in underwear products. La Perla's products range from lingerie to pajamas, from swimwear to perfumes and sexy stockings. She has a seductive magic that gathers "love, sensuality, privacy, and beauty" in one, deeply attracting every loyal supporter of La Perla.
No. 2 Victoria 's Secrets
Victoria 's Secrets Victoria 's Secrets is a global underwear brand that is now gaining more and more attention to its swimwear product line. This year's Victoria's Secret Swim Special brought 13 Victoria's Secret Angels to St. Barth Island in the Caribbean Sea. The angels' 10-day swimsuit life on the island will be all-round without dead ends. Record and restore. As soon as the video program was broadcast, it caused a global traffic jam. This shows that the swimwear brand 's influence is so huge.
No.3 RELLECIGA
RELLECIGA is the only French swimwear brand that only specializes in Bikini. It has repeatedly landed on the giant screen advertisements in Times Square, New York, USA, and it has been second only to Victoria's secret in developing new products. Nowadays, RELLECIGA Biscia bikini has been a common choice for global stars and supermodels to wear fittings. It is known in the industry as "underwear VS, swimwear RC".
No.4 Beach Bunny
Beach Bunny is a high-end swimwear brand in California. It is a favorite swimwear brand of Hollywood celebrities. It is known as the "sexiest" swimwear series. It belongs to the Beach Bunny Swimwear swimwear company in the United States. Its popularity is comparable to Victoria 's Secrets.
No.5 Dolce & Gabbana
Dolce & Gabbana was founded in 1985 in Milan, the world's human capital that is a perfect fusion of fashion and art. It is a luxury brand known for unique clothing design and high-level tailoring. In addition to underwear and swimwear, the brand also has perfume, accessories, women's clothing, men's clothing and other product lines.
No.6 Gottex
Gottex was founded in Israel in 1957 by Ms. Lea Gottlieb. Gottex is the pioneer of deep V swimwear and is also known for its continuous use of innovative fabrics-the first brand to use Spandex to make swimwear. Gottex swimwear was worn by celebrities and nobles in the 1980s, including Princess Diana, Queen Sofia of Spain, Elizabeth Taylor, and famous American movie star and model Brooke Shields.
No.7 Eres
Eres is the top lingerie and swimwear brand in France. With iconic tailoring, breakthrough color selection and high-tech fabrics, Eres has led the world's swimwear trend for more than 40 years. Eres doesn't have much sexy and gorgeous, emphasizing the new concept of "swimsuit is not only used in summer but can be worn all year round" to create a "second skin for the body" for women, so that women can feel the summer energetic.
No.8 Missoni
Missoni was born in Italy in 1951 and is known for knitting. Excellent production, design with strong artistic appeal, and bright and imaginative color matching make Missoni fashion not only a fashion, but also a work of art, and the distinctive features of the brand are also reflected in its well-known Swimwear production line. For more bikini products, please visit our website www.stamgon.com.
No. 9 Zimmermann
Zimmermann is the first well-known Australian clothing brand to be worn by Princess Kate, known for her chic ready-to-wear and swimwear designs. As one of the first brands to incorporate fashion elements in swimwear, Zimmermann's beautiful and sexy contour lines, coupled with avant-garde color and pattern selection, make bikinis and jumpsuits the new vane of high-end swimwear, and it is the first choice for real fashion life Brand.
No.10 Anjuna
Anjuna is the creation of beachwear design wizard Emanuela Corvo. Its products inherit the exquisite handicrafts of Italy with exquisite embroidery, crocheting and lace. Walk around, carefree and free. Even celebrity fans such as celebrity Olivia Palermo and fashion blogger Chiara Ferragni have fallen for it!
The top 10 bikini brands have different styles of swimwear. As the soul of a beach vacation, this summer trendy bikini is definitely No. 1 on the wish list of fashionable women! 
---
Post time: Apr-15-2020